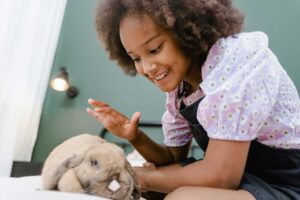 VOLUNTEERS ARE ALWAYS WELCOME.
Volunteers are at the forefront of all our rescue efforts in South Florida.
Tell us how much time you can volunteer
BECOME A PENNY PAL
---
Since we are 100% foster-based, we do not have a facility for volunteers to spend time helping out in. However, we do still have some volunteering opportunities for those who are interested to become Penny Pals! All of the opportunities below provide service hours so Penny Pals are well rewarded for their efforts.
Photography is another very important role within the rescue! If you enjoy photographing animals or have a camera lying around and some spare time, this is a very important aspect of rescue that directly impacts adoptions! Photography can be done in individual animal sessions or group days. You do not need to have professional skills as long as you can be creative and take clear closeups for the website! To start photographing rabbits, please email us at info@pennyandwild.org and let us know that you'd like to help with photography!
Bio Writing is another opportunity that we offer volunteers. We often have over 100 animals on the website at any given time. Many of these animals have very distinct personality traits that can be showcased through unique bios on the websites. Bio writers use the information on the animals to create short 4-10 sentence bios for adopters to read. The more creative it is, the higher chance of adoption the animal has! To help out with bio writing, you can contact us at info@pennyandwild.org.
Join our Social Media Team! We are looking for volunteers to help out with posts and stories on social media. If you're interested in helping out with social media, please message info@pennyandwild.org and let us know which platform(s) you'd like to help with.
Event Assistants We generally host events 1-4 times a month. They generally take place over weekends and are a great way for our adoptable animals to be showcased. Event assistants will set up and prep crates, handle the animals, talk to interested people at the events, and then break down crates and tables and clean up at the end of each event. If you're interested in helping with events, please contact info@pennyandwild.org.
DONATE ONLINE TO HELP FUND THE RESCUE.