OUR EXTENDED FAMILY MEMBERS.
Many of our residents are considered unadoptable because of serious illness. For this reason, they remain permanent residents at Penny & Wild and are considered valued members of our extended family.
Those we love the most
OUR PERMANENT RESIDENTS
---
While Penny & Wild is not a sanctuary, we do sometimes rescue animals that end up being unadoptable, meaning they are not able to find homes. Each of these animals is in a foster home for the remainder of their lives. Some of them may be hospice while others have ongoing medical problems that prevent them from being able to be adopted by most people. These rabbits are all sweet and loving and spend most days showering their fosters with love and gratitude for being rescues. These animals always welcome toys and treats and donations toward their medical bills. If you'd like to send a little something to one of our permanent residents, please get in touch using the contact us page for more information 🙂
We are not accepting applications for the animals below unless you are a very special person willing to put the time, finances, and commitment into one of these animals. If that happens to be you, please fill out an application and our adoption team will discuss the animal's specific needs and care with you.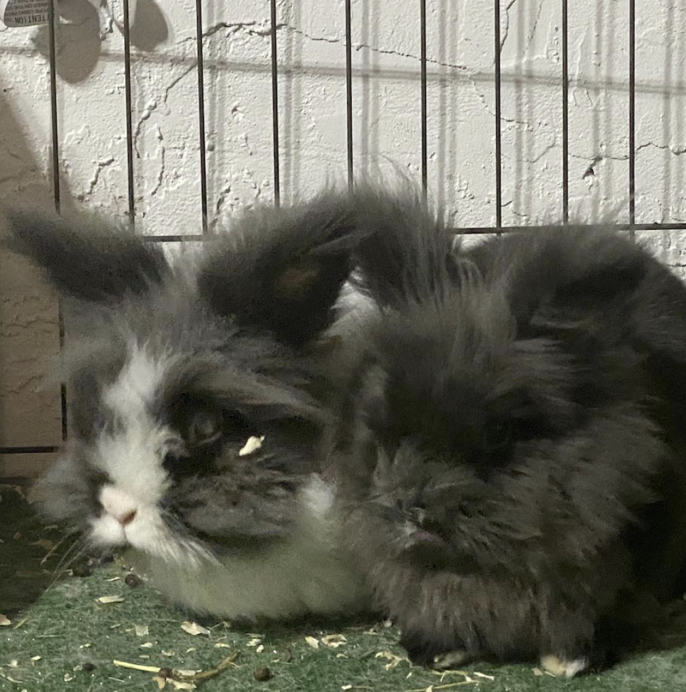 MEET:
MAX AND MAYA
Max and Maya are a bonded pair of nine-year-old Lionhead siblings. They came from a hoarding situation where they had no access to daylight. Max came to us with severe glaucoma and very high pressure in both eyes. Due to a complication with his glaucoma, Max had to have one eye removed. He is now completely blind and only has one eye but he still gets around just fine. Maya is his best friend and sidekick, they have been inseparable for their entire lives. They're both older buns and will spend their last few years in a foster home where they'll know love and happiness.
MEET:
BENTLEY
Bentley is a ten year old senior. He was brought to us after his owners ran out of time for him. He is almost completely blind from advanced glaucoma and has significant arthritis but he's still a happy bunny.
MEET:
Talia
Talia was rescued after we got a call about a rabbit that had been living on the streets for eight years. Talia had survived multiple hurricanes and…
DONATE ONLINE TO HELP FUND THE RESCUE.